This is a very simple FREE app to use. There is no need to register with a health service or download anything – follow this link below to get started. There is nothing complicated to navigate but send us a message if you have any problems and we will help you.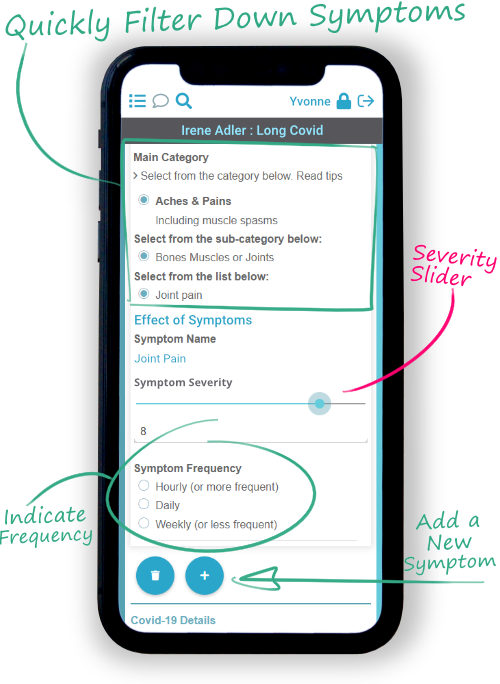 If someone is helping you, whether it is your GP or a trusted friend or family member, you can give them access to your record. This is your choice and you can switch off access at any time. It will be very helpful for a GP to see your symptoms because we know with Long Covid that they come and go. Your GP (or specialist consultant) needs to know how your are feeling between visits. This will help them understand if treatment is working for you.
Some health services are working with us to provide you with extra information to support you when using the app. You may see messages appear when you enter symptoms, and some may be for your GP. This messages may direct you to local services based on your postcode. Your GP will see the messages along with your symptom diary if you chose to share this will them. All the messages require you to follow an external link. All these links have been approved by your local health authority, and you may not be able to see the messages for GPs if they are linked from an internal NHS server. Be assured that your GP will see them.
Please note, we may provide your local health authority with anonymized statistical information to help them plan services to help people with Long Covid in your area. See the services we provide to Healthcare Providers for more information.