Long Covid is life changing for many individuals and it needs to be life changing for the NHS – "We need to work together".
Our technology enables you to act quickly to disseminate evolving best practice dynamically to both patients and doctors, improving self-help and referral pathways. No need for complex integrations. Plan locally using real data.
CHAI LongCovidTracker (and our sister app CHAI Community) give everyone access to the latest healthcare technology, including difficult to reach groups and those digitally excluded who may benefit from community help (volunteers, friends, family & carers).
Please encourage your patients to use it for their benefit and yours.
"We need to work together". Short video introducing our app, co-developed with Prof. Keir Lewis (Professor of Respiratory Medicine and Clinical Respiratory Lead at Hywel Dda University Health Board, NHS Wales).
Empowering Patients
Signpost Patients to Your Advice Based on Their Symptoms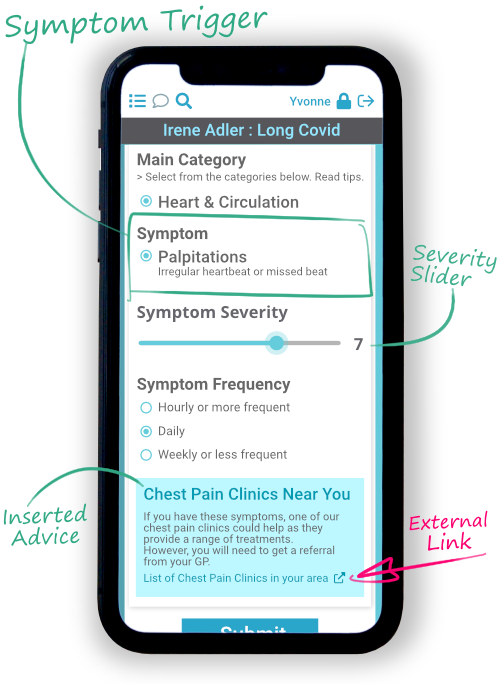 Reach out to your entire population who have Long Covid and not just active patients, based on their self-reported symptoms
Use CHAI® apps to help your patients by providing them with your specific advice and signposting to local support and services, all based on their self-reported symptoms.
We will set this up for you and it can be changed at anytime as your services evolve. This will dramatically focus effort where it is most needed and relieve pressure from front line primary and secondary care services that are overloaded due to this pandemic. Ensuring those who need urgent help get it.
Empowering Clinical Teams
Clinicians can Access their Patient's Self-Monitored Symptoms
Patients can give GPs, clinics, assessment centres or specialist secondary care teams direct access to their record. If a patient is digitally excluded or otherwise not able to use an app then friends, family, carers or volunteers can help them by using our community app (EU & UK GDPR compliant).
Healthcare subscribers get unlimited use of the secure DownloadMyData service. We have developed this service in partnership with an NHS organisation as a direct response to the urgency of managing the high volume and complexity of the Long Covid conditions.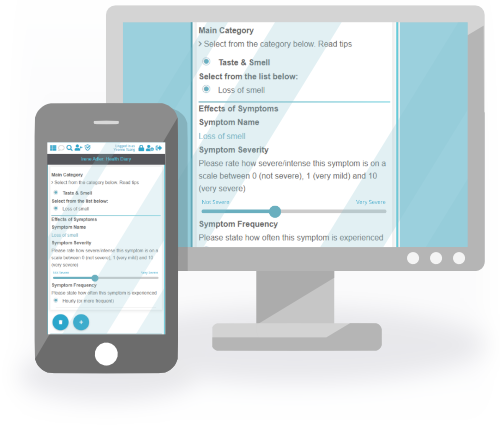 Give Clinicians Current Advice about Treatment & Referrals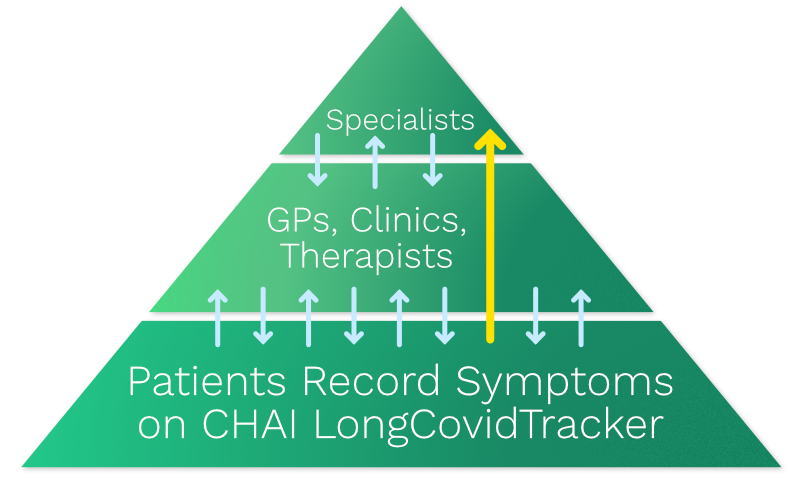 It is essential that your clinicians are kept up to with the rapidly evolving latest evidence-based advice and guidelines regarding diagnosis and treatment of Long Covid.
This will enable better quality referrals to services available in the community and to secondary care, optimizing utilization of services without disrupting normal NHS pathways. Local NHS governance procedures are applied to all patient and clinician signposting approval.
Empowering the NHS
Plan Ahead with Local Statistics
Gear up and focus your services based on actual trends in your community
We don't yet know the long term care requirements of patients who have suffered from Covid-19 and Long Covid.
It is essential that healthcare providers act on the data and prepare services ahead of demand.
We provide anonymized weekly health statistics of Long Covid symptoms in your area (number of cases, severity and frequency of almost 200 symptoms). You can request customized reports and even ask users specific questions about their health or healthcare (local customized questionnaires).